NEWS
---
2016.5.18

Blouse Sale 20% OFF♪

As we gained a lot of popularity since the sale at our physical stores, we have decided to have the sale online as well!

【Sale Period】
From 14:00 May 19 to 23:59 May 29(JST)

Offering the variety of blouses including summer short sleeve, three quater sleeve, and regular long sleeve blouses.
**Except for some items.

It's a great buy♪ Don't miss out the chance!

⇒Blouse Sale 20% OFF♪

---
2016.5.10

Innocent World Special Bag and Pouch Set Book♪

"Innocent World Special Bag and Pouch Set Book " is going to be released from Takarajimasha!
It will be sold all over the country in book stores.

The ever popular series "Fantasy Night Sky" is printed on the tote bag(H28×W40×D9.5cm)and pouch(H15×W21.5×D4.5cm).
The pouch has inner lining, the bag has inner lining and inside pocket.
Shiny supple fabric for the frontside. Fine polyurethane leather for the backside and handles.
The pouch has the same pattern as the bag with a gold zipper and strap.
Our latest collections and a message from Yumi Fujiwara are included in the booklet.

『Innocent World Special Bag & Pouch Set Book』
Price: 2400 JPY + tax
Format: A4 format/full-color/8 pages
ISBN:978-4-8002-4779-7
General Release date: May 21 2016

【Selling schedule Online】
・Advanced reservations for Special Members start on May 11th.
・Reservations for Non-member customers start on May 13th.
・General Release starts on May 21st.

---
2016.2.26

Re-release of Kuniyoshi Kaneko Alice series

Thank you very much for answering the questionnaire regarding re-releasing the item of "Kuniyoshi Kaneko Alice series"

The results from the questionnaire shows that "Kaneko Alice Shoulder Ribbon Jumperskirt" was chosen to be re-released!!
Plus "Kuniyoshi Kaneko Tights" and "Kuniyoshi Kaneko「Alice Through the Looking Glass」Tights" will be re-released at the same time♪

≪Taking Reservations by Email≫
We are emailing customers who answered the questionnaire for confirmation of the item requested.
To follow the below schedule:
■Advanced reservations for customers who have requsted "Kaneko Alice Shoulder Ribbon Jumperskirt" will be available from 26th February.

■Advanced reservations for customers who have requsted "Kuniyoshi Kaneko Alice High Waist Jumperskirt" from 4th March.
**We are releasing only "Kaneko Alice Shoulder Ribbon Jumperskirt"this time. There is no release of High Waist Jumperskirt. You can have priority to reserve Shoulder Ribbon JSK.

≪On Webpage≫
■Advanced reservations for Special Members will be available from 11th March.
■General reservations will be available from 18th March.
■General release will be on 25th March

**Priority reservations are given to Customers who have answered the questionnaire by email and will be closed for SPM and non-members if reservations are filled.
We apologize for the inconvenience and thank you for your understanding.

---
2016.1.14

Collaboration item with Peter Rabbit™

<<For overseas customers>>
We have been getting lots of inquiries about collab item "Peter Rabbit™ series" which will be released on 15th January.
Under the license agreement with the licensor, we are afraid but the items of Peter Rabbit™ series are not sold for overseas customers.
We would appreciate your understanding.


---
2015.11.17

We're invited to the Tea Party in Hong Kong!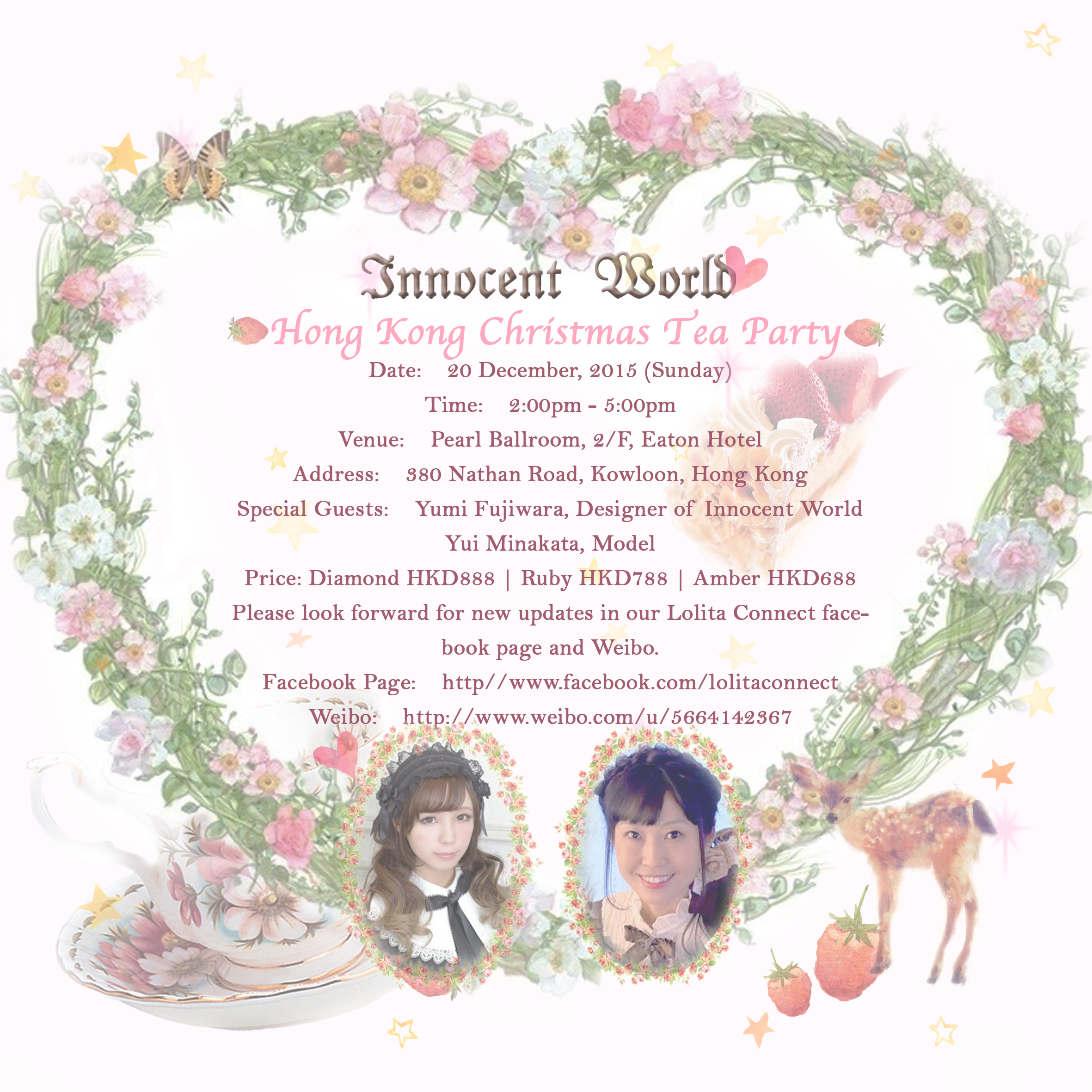 This winter, our designer Fujiwara and model Yui Minakata are planning to attend the Hong Kong Christmas Tea Party hosted by Lolita Connect, as the special guest.

Click the links below to get further information.

Facebook:https://www.facebook.com/lolitaconnect
Weibo:http://www.weibo.com/u/5664142367


---
2015.7.3

Announcement : 2nd Alfons Mucha Collaboration Project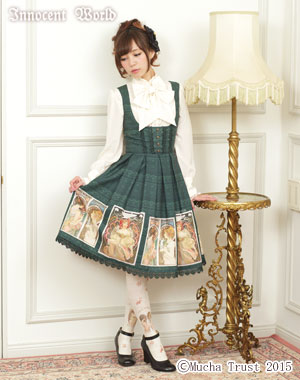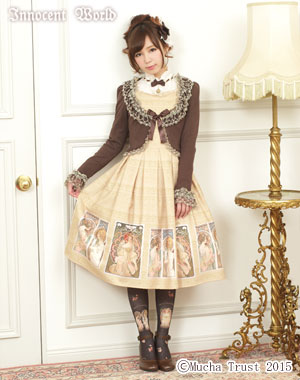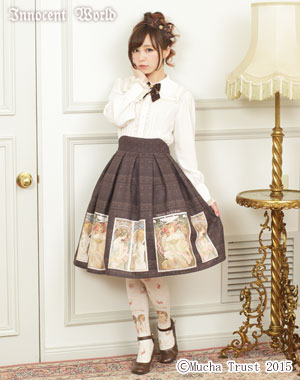 Following the collaboration project between Alfons Mucha and Innocent World that was very popular last time, we are releasing new collaboration items this year!
For the new dresses, his major masterworks [Rreverie],[La Plume],[la primavera] are printed on exquisite lace pattern printed fabric.
The classical and gentle hue gives a calm impression.
■Special Members can make advanced reservations starting July 24th.
■Non-member customers can make reservations starting July 31th.
■Release date : Around the middle of August
The details will be posted in "KERA! the September released on July 16th.
Please check it out♪
---
2014.04.04

Innocent World Foldable Umbrella BOOK is
about to release!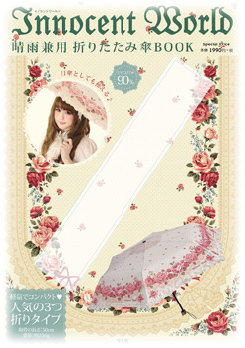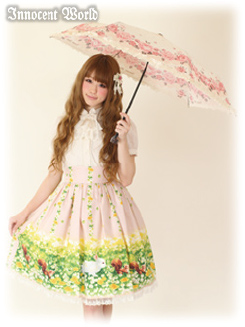 "Innocent World Foldable Umbrella BOOK"is going to be released from Takarajimasha!
You can get a foldable umbrella usable also as parasol featuring our coveted original print Lauretta Rose.
Classy rose printed umbrella with frills will be one for your daily outings♪
With an eight-page leaflet featuring our dresses♪

【Taking reservations until】
May 11, 2014
【Release date】
May 16th
★For purchases on our webshop and retail shops except Nagoya shop,we'll offer 1000 yen voucher that you can use for purchase accumulate to 5,000 yen or more.
Innocent World Foldable Umbrella BOOK♪
Go for getting one before sold-out♪
---
2013.12.27

About our coming series featuring Peter Rabbit?

Regarding coming series featuring The Tale of Peter Rabbit? by Beatrix Potter? we're so sorry but we cannot accept orders overseas - they're released exclusively for domestic sales (we cannot get licenses to ship them internationally). Thank you for your understanding in advance.

BEATRIX POTTER ?and PETER RABBIT ? ? FW & Co.,2014
---
2013.11.18

Further info about our first brand Mook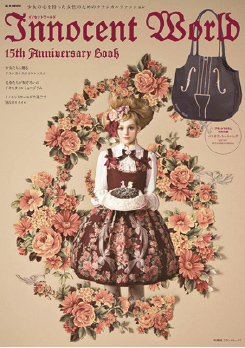 Hope we didn't keep you waiting,
now we can let you know more details about Innocent World 15th Anniversary Mook♪
【Taking online reservations until】
November 22nd to December 1st
【Release date】
December 6th
【Price】
¥1,470
【Contents】
*From the Vienna tea party
(presented by Gothic Lolita Austira)
*Lessons for classical styles
*Chronology and our coveted dresses
*Textile museum
*Dresses from collaborative works
*365 days with Innocent World
*The place where Innocent World's items are born ...and more☆
On the cover story, Dakota Rose appears in our brand-new series as classical Alice♪
On the feature called "Textile Museum"
we would like to introduce you our original prints and embroidery designs for the past collections♪
【Special supplement】
It's our famous Violin Bag, but actually a tote with an inside pocket and opening snaps!
(Approx size: 31cm×32cm width×10.5cm depth)
An useful tote enables you to put many items in it♪
It ain't cheap with f-hole embroidery, not printed ones.
Here you can see our whole 15 years.
Go for getting one before sold-out☆
At Osaka flagship shop and Harajuku store,
samples of the supplement bag will go on display from November 15th♪
Please come to shops and check it in person☆